General Election Nov 3, 2020
For UNOFFICIAL New Mexico results, as they are reported, please visit https://nmresults.azurewebsites.net/Default.aspx
UPDATE! The Voter Guide PDF was found to contain yet more errors, and an updated version was posted Monday, 10/22/2020. For link, see below!
On November 3, New Mexico voters will elect a new President/Vice President, US Congress members, US Senator, New Mexico Representatives, New Mexico Senators, and many other state and county officials. Judges will be up for retention. There will be bond issues and other ballot issues.
PDF. Be informed! The League of Women Voters' "Voter Guide" is available in PDF form here. (*** UPDATED AGAIN 10/22/20!***)
Online interactive. The online Voter Guide, which includes candidate responses to more questions than the printed version, as well as information about ballot issues, is hosted this year on the vote411.org website. To see everything in the League's Voter Guide, customized for your voting precinct, simply enter your address when prompted. The Leagues covering the entire State of New Mexico are using the Vote 411 interface this year. You may have used our Vote411 Voter Guide in the Primary election a few months ago. This is the same platform!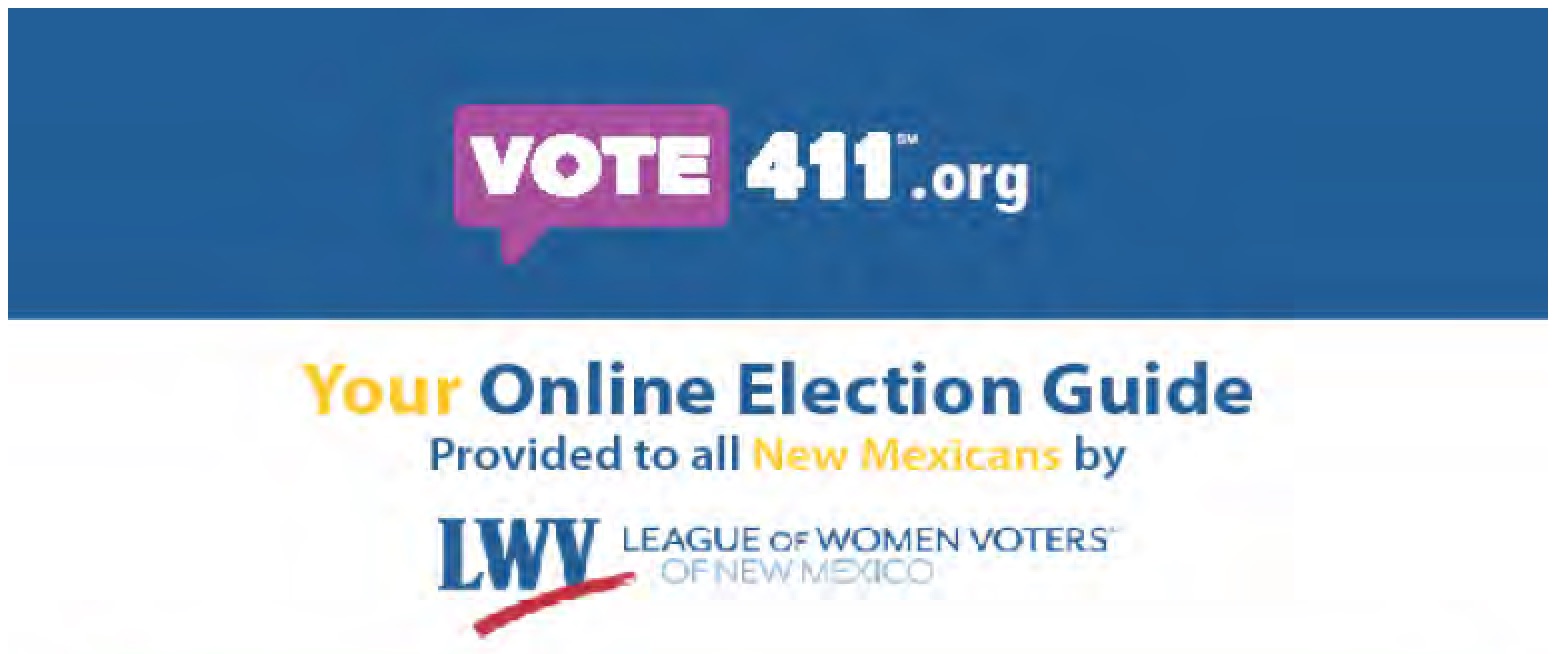 For the Secretary of State's one stop shop of election information, see nmvote.org.
Also, read on for some useful summaries.
When can I vote?
Election Day is Tuesday, November 3, and polls will be open from 7am to 7pm. If you are in line before the polls close, you will be allowed to vote. Be safe and considerate of others! Be sure to wear your face mask and socially distance!
Early voting will begin Tuesday, October 6.
I want to Vote by Mail!
You can request an absentee ballot up until October 20. Because of projected delays in the postal system, voters are encouraged to either mail back their completed ballot as soon as possible, or hand deliver it to their County Clerk's office or to one of the Early Vote Centers.
Where do I get an Absentee Ballot?
You can request an absentee ballot via nmvote.org, or by contacting your County Clerk. In New Mexico, any one is allowed to receive an absentee ballot, no reason needed.
Am I Registered to Vote?
You can verify your registration at nmvote.org. You can also update your registration information (political party, address, etc), or register if you are not currently registered.
Early In-Person Voting
See your County Clerk (website, phone, etc) for information about how and when Early Voting will work in your county.